Reprint from the Danish amateur radio magazine "OZ" from 1957 – the International Geophysical Year.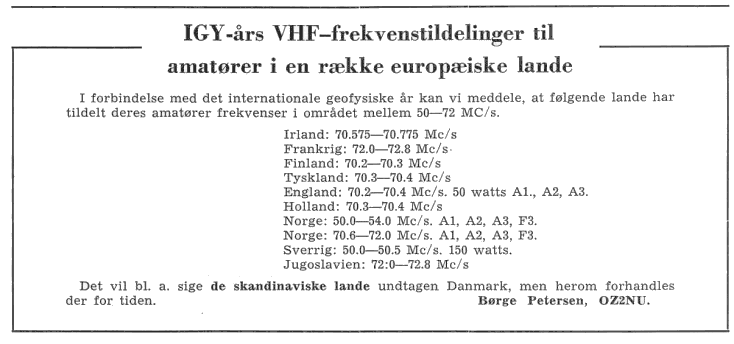 The text says:
The IGY-year radio amateur VHF frequency allocations in European countries
In relation to the international geophysical year we hereby announce that radio amateurs in the following countries have been allocated frequencies between 50-72 MHz.
Eire: 70,575-70,775 MHz
France: 72,0-72,8 MHz
Finland: 70,2-70,3 MHz
Germany: 70,3-70,4 MHz
England: 70,2-70,4 MHz, 50 W, A1, A2, A3
The Netherlands: 70,3-70,4 MHz
Norway: 50,0-54,0 MHz, A1, A2, A3, F3
Norway: 70,6-72,0 MHz, A1, A2, A3, F3
Sweden: 50,0-50,5 MHz, 150 W
Yugoslavia: 72,0-72,8 MHz
I.e. the Scandinavian countries except Denmark, more will follow after the ongoing negotiations.
Børge Petersen, OZ2NU
Editor's comments:
To most Danes the term "England" refers to Great Britain both then and now.

The term "Scandinavian" countries are among its residents defined as Denmark, Norway and Sweden whereas the term "Nordic" countries encompass: Denmark, The Faeroe Islands, Finland, Iceland, Norway and Sweden.

The allocation(s) must have been withdrawn at a later stage – otherwise they should still be in effect.

On the occasion of the International Geophysical Year 1957/1958 there have been issued 10 special licences in Austria, OE, to use the 70MHz band. As far as we could find out in OE-archive, only 3-4 hams used the opportunity to work on 4m.
OE6AP (sk) made the first contact with YU3, date/call not known and
OE2JG/p made the first contact to DL with DL1EI in 1957.
Also a beacon OE7IGY was running, OE7AR (sk) was the responsible person.