300 watts 70 MHz linear power amplifier using an MRF300AN transistor
The power amplifier is designed to be used in amateur radio stations of 70 MHz band. The circuit is typical and does not require any explanations. RF chokes and matching networks coils are built on the PCB which makes this amplifier easy to replicate. It can be tuned to operate on the 50 MHz or 144 MHz band by changing the capacitors values and their connection points in Z1, Z2 matching networks. All the measurements  of  this amplifier parameters were made with the low-pass filter tuned for the 70 MHz band.
Please contact Sergey EX8MLE if you would like to buy an assembled PA or a PCB.
Parameters
Frequency Range  –  70-72 MHz
Input/Output impedance – 50 ohms
Vdd = 50 V
Idq = 100 mA
Id = 7,2 A
Pin = 1,75 W single tone
Pout = 300 W CW
Gps = 22,3 dB
nD = 83%
Class – AB
Circuit diagram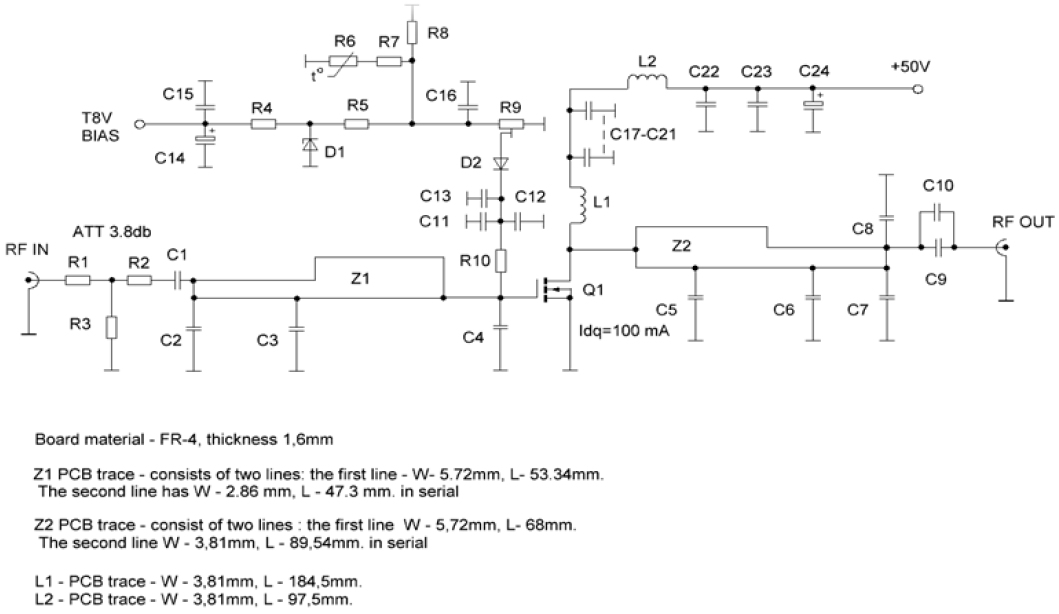 Printed Circuit Board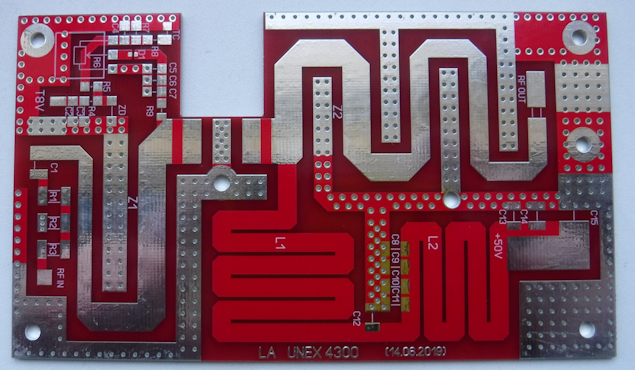 Populated PCB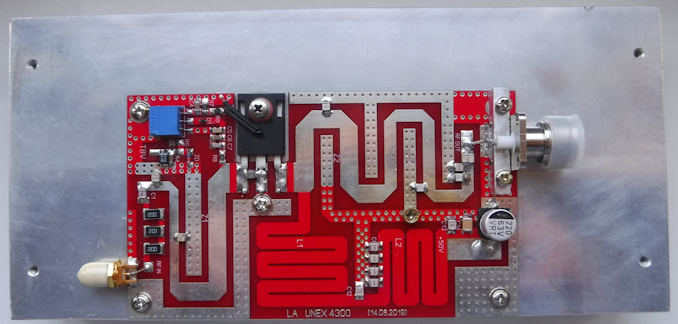 Low Pass Filter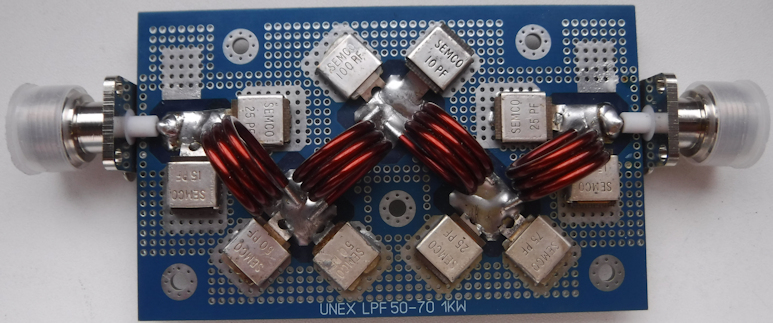 Output Spectrum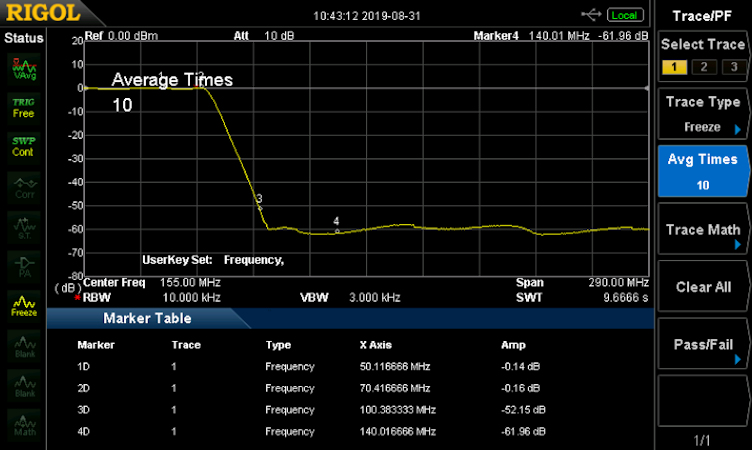 Parts list
| | | | |
| --- | --- | --- | --- |
| Part | Description | Part Number | Manufacturer |
| Q1 | RF Power LDMOS Transistor | MRF300AN | NXP |
| PCB | FR4 1.6 mm 1 oz | | |
| C1 | 4700 pF Chip Capacitor | 700B472KT50XT | ATC |
| C2 | 330 pF Chip Capacitor | 100B331JT200XT | ATC |
| C3 | 56 pF Chip Capacitor | 100B560KT500XT | ATC |
| C4 | 470 pF Chip Capacitor | 100B471JT200XT | ATC |
| C5, C6 | 68 pF Chip Capacitor | 100B680GW500XT | ATC |
| C7 | 100 pF Chip Capacitor | 100B101JT500XT | ATC |
| C8 | 33 pF Chip Capacitor | 100B330JT500XT | ATC |
| C9, 10 | 470 pF Chip Capacitor | 100B471JT200XT | ATC |
| C11 | 1 n Chip Capacitor | 1206C102KAT2A | Kyocera |
| C12, C15, C16 | 10 n Chip Capacitor | 1206C103KAT2A | Kyocera |
| C13 | 100 n Chip Capacitor | 1206C104KAT2A | Kyocera |
| C14 | 4.7 mF SMD Tantalum Capacitor | T491B475M016AS | KEMET |
| C17, C18, C19, C20, C21, C22 | 1 n Chip Capacitor | 100B102JT50XT | ATC |
| C23 | 10 n Chip Capacitor | 1812B103K302NT | Walsin Technology |
| C24 | 220 mF, 63 V Electrolytic Capacitor | CE1J221M1XANG | Sanyo |
| D1 | 5.1 V Zener Diode | BZV55C5V1-TP | MCC |
| D2 | 1SS355VMFH | 1SS355VMFHTE-17 | ROHM |
| R1, R2 | Ω 2512 | RC2512FK-0710R | YAGEO |
| R3 | Ω 2512 | RC2512JK-07100R | YAGEO |
| R4 | kΩ 0805 | RC0805JR-072K2 | YAGEO |
| R5 | 1 kΩ 0805 | RC0805FR-071K | YAGEO |
| R6 | 10 kΩ Thermistor | NTC-MF52-103F3435 | Shenzhen Haiwang Sensor |
| R7 | 22 kΩ 1206 | RC1206FR-0722K | YAGEO |
| R8 | 4.7 kΩ 1206 | RC1206FR-074K7 | YAGEO |
| R9 | 5 kΩ | 3292W-1-502LF | BOURNS |
| R10 | 10 Ω 1206 | RC1206FR-0710R | YAGEO |
| L1, L2 | See text circuit diagram | | |
| Z1, Z2 | See text circuit diagram | | |