Sergey EX8MLE has published one more of his professional PA designs. This time it is a 70 W PA designed for beacon purposes. The amplifier has good linearity, built-in low-pass filter for better harmonics suppression, output outlets for monitoring the forward and reflected waves. The power amplifier is made to operate in radio amateur applications in SSB, CW and digital modes. All transistors DC levels are stated on the drawing and if good components are used and the PCB design the power amplifier will require no further tuning and is easy to build.
Technical specifications
Frequency range: 70-72 MHz
Class: AB
Input power: max. 0 dBm (1mW)
Output power: 70 W
Gain typical: 38,5 dB
Harmonic rejection: min. 56 dB
Supply voltage: 13,2 V
Iddle current typical: 1,2 A
Current consumption: 11,5 A
Heat sink  temperature: -20 °C to +55 °C
Input/output connector: SMA-female / 50 ohms
Dimensions PCB: 160 mm x 100 mm
The technical specifications refer to room temperature. Recommended combination of heat sink and fan.
Please contact Sergey EX8MLE if you would like to buy an assembled PA (135 USD) or a PCB (10 USD).
Here is a video showing the PA on the bench.
Click here for the circuit diagram.
Populated PCB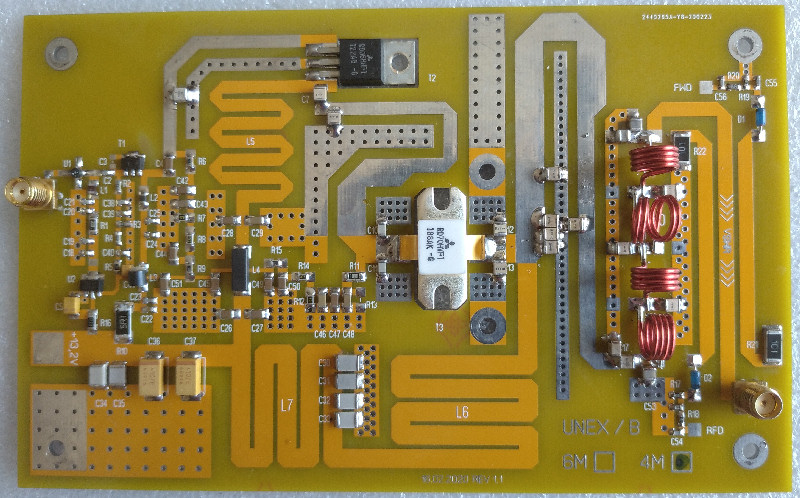 Frequency response
Output spectrum